Coaching Staff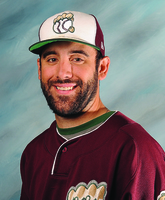 Mike Habas
Hitting Coach
Mike Habas returns to the Gary SouthShore RailCats coaching staff for his third season in 2019. Habas served as the team's first base coach in 2017 before being promoted to third base coach in 2018. Prior to the start of the 2019 season, Habas was promoted again after being named the team's hitting coach.
Habas played collegiately at Moraine Valley Community College and South Suburban College before transferring to Division II North Greenville University after his sophomore season. As a junior in 2014, Habas hit .227 with seven RBIs and four doubles in 22 games for the Crusaders.
During the college baseball season, Habas serves as the head coach at Prairie State College in Chicago Heights, Ill.. Prior to being named the head baseball coach at Prairie State in 2019, Habas was an assistant coach at Olive-Harvey College from 2016-18 and was the head freshman baseball coach at his alma mater Homewood-Flossmoor High School (HFHS) from 2016-18.
Habas graduated from HFHS in 2009 and was named to the All-Area team as a senior. Habas resides in Homewood, Ill.
About the Railcats
A day at U.S. Steel Yard is non-stop fun, and that's even without the baseball! The RailCats promise a wide array of laugh-out-loud between inning entertainment, great giveaways, jaw-dropping fireworks and a family-first, kid-friendly atmosphere! RailCats fans come in all ages, shapes, and sizes, and the RailCats promise every fan will have fun.
Quick Links
Find Us
U.S. Steel Yard
One Stadium Plaza
Gary, IN 46402
219.882.2255