Current Roster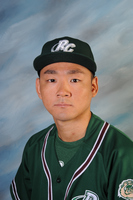 Jumpei Akanuma
#61
Position:
P
Height:
6' 0"
Weight:
190 lbs
College Experience:
Lee University
Bats:
L
Throws:
R
Biography:
2018
Went 5-4 with a 5.02 ERA and one complete game shutout in 13 games (12 starts) as a senior at Lee University
Won the Western Major Baseball League (wmbl) Championship with the Medicine Hat Mavericks
Named a Second Team All-Star among starting pitchers after going 7-1 with a 3.13 ERA in 10 starts
2017
Transferred to Lee University after pitching for three seasons at the College of the Desert
Went 1-4 with two saves and a 5.08 ERA in 15 games (13 starts) as a junior at Lee University
Went 2-1 with a 5.50 ERA in eight games (seven starts) with the Arroyo Seco Saints of the California Collegiate Summer Baseball League
Personal
Pitched at the College of the Desert from 2014-2016 before transferring to Lee University
Pitched for the Palm Springs Power of the Southern California Collegiate Summer Baseball League in 2016
About the Railcats
A day at U.S. Steel Yard is non-stop fun, and that's even without the baseball! The RailCats promise a wide array of laugh-out-loud between inning entertainment, great giveaways, jaw-dropping fireworks and a family-first, kid-friendly atmosphere! RailCats fans come in all ages, shapes, and sizes, and the RailCats promise every fan will have fun.
Quick Links
Find Us
U.S. Steel Yard
One Stadium Plaza
Gary, IN 46402
219.882.2255