Current Roster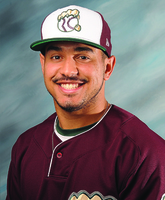 Alex Crosby
#34
Position:
IF
Height:
6' 2"
Weight:
215 lbs
College Experience:
Sonoma State University
Bats:
L
Throws:
R
Biography:
Crosby returns for his fourth season with the RailCats in 2018 after a solid 2017 campaign. The first baseman hit .291 with three homers, 24 RBIs, and six stolen bases over 7 games. The longest tentured player on the roster, Crosby battled injuries, but still finished second on the team in batting average and OPS (.723)
In 2016, Crosby led the team in at-bats (311) and hits (91). He hit .293 with three homers, 16 extra-base hits, 44 RBIs and six stolen bases. Crosby began his RailCat career in 2015, batting .200 with six hits and three doubles in 30 at-bats. Crosby was signed by Gary out of Sonoma State University after hitting .365 with four home runs, 31 RBIs, nine stolen bases and 17 extra-base hits as senior. Crosby also led his team in games played (49), games started (46), hits (66) and total bases (93).
About the Railcats
A day at U.S. Steel Yard is non-stop fun, and that's even without the baseball! The RailCats promise a wide array of laugh-out-loud between inning entertainment, great giveaways, jaw-dropping fireworks and a family-first, kid-friendly atmosphere! RailCats fans come in all ages, shapes, and sizes, and the RailCats promise every fan will have fun.
Quick Links
Find Us
U.S. Steel Yard
One Stadium Plaza
Gary, IN 46402
219.882.2255