Current Roster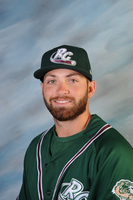 Kaleb Fontenot
#28
Position:
P
Height:
6' 1"
Weight:
180 lbs
College Experience:
McNeese State University
Bats:
R
Throws:
R
Biography:
2018
Appeared in MLB Spring Training with the Texas Rangers for the first time in his career (0.2 IP, 0 H, 0 R/0 ER, 0 BB, 0 K)
Went 2-3 with one save, nine games finished and a 3.25 ERA in 35 games (one start) with the Down East Wood Ducks (Class-A Advanced) of the Carolina League
Didn't allow a hit or run in his season debut on 4/6 against the Lynchburg Hillcats
Didn't allow a run in a season-best 10.1 consecutive innings between June 3 and July 9
Made his only start on 6/13 vs. the Wilmington Blue Rocks (4 IP, 2 R/1 ER, 4 H, 0 BB, 3 K)
2017
Went 5-4 with a career-high 22 games finished, six saves and a 3.06 ERA in 41 relief appearances with the Hickory Crawdads (Class-A) of the South Atlantic League
Posted a career-high five wins, 22 games finished, six saves, 3.06 ERA, 85.1 innings pitched, 96 strikeouts, .214 opponents batting average, 1.07 WHIP, 2.6 BB/9 (walks per nine innings), 10.1 SO/9 (strikeouts per nine innings) and a 3.84 SO/W (strikeout-to-walk ratio)
Didn't allow a run in six of his first seven appearances and didn't allow a run in a career-best 13 consecutive innings between May 21 and June 11
2016
Selected by the Texas Rangers in the 21st round of the MLB Draft as a senior out of McNeese State University
Went 0-2 with eight games finished, three saves and a 4.17 ERA in 19 games (three starts)
Tossed a hitless inning of relief in his professional baseball debut on 6/18 vs. the Vancouver Canadians and didn't allow a run in his first four innings pitched and five of his six games
Personal
Named All-State and All-State Honorable Mention as a pitcher and shortstop as a junior and senior, respectively, at Sacred Heart High School
Pitched at McNeese State University from 2013-16
Made two relief appearances and named to the Southland Conference Commissioner's Spring Honor Roll as a freshman at McNeese State University in 2013
Posted a team-best 6-2 record and a team-best 2.14 ERA in 16 games (10 starts) as a sophomore in 2014
Went 7-4 with a 3.38 ERA in a team-high 15 starts as a junior in 2015
Led the McNeese State pitching staff with 15 starts, 93.1 innings pitched and 92 strikeouts in 2015
Named to Second Team Southland Conference All-Academic Team after going 6-5 with two complete games (one shutout) and a 2.02 ERA in a team-high 15 starts as a senior in 2016
Led the McNeese pitching staff with two complete games, a 2.02 ERA, 15 starts, 107 innings pitched, 108 strikeouts and a .209 opponents batting average in 2016
Set a single-season school record with 28 consecutive scoreless innings in 2016
Ranks third in school history with 19 career wins at McNeese State
Son of Jonathan and Bridget Fontenot; has two siblings, Kaggan and Karli

About the Railcats
A day at U.S. Steel Yard is non-stop fun, and that's even without the baseball! The RailCats promise a wide array of laugh-out-loud between inning entertainment, great giveaways, jaw-dropping fireworks and a family-first, kid-friendly atmosphere! RailCats fans come in all ages, shapes, and sizes, and the RailCats promise every fan will have fun.
Quick Links
Find Us
U.S. Steel Yard
One Stadium Plaza
Gary, IN 46402
219.882.2255