Current Roster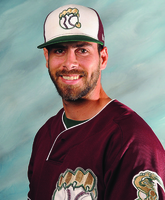 Alex Gunn
#30
Position:
P
Height:
6' 4"
Weight:
210 lbs
College Experience:
Memphis
Bats:
L
Throws:
L
Biography:
Gunn returns to the RailCats after going 8-5 with a 3.48 ERA in 2017. The southpaw tied for the league lead in starts (25), while finishing third in innings pitched (152.2), and complete games (three), all of which led the squad. Gunn also led the RailCats with 100 strikeouts and 14 quality starts. His 152.2 innings pitched was the fourth-highest single-season figure in American Association history, while his 25 starts set a franchise record.
Gunn went 2-0 with one save and a 3.37 ERA in 12 games (six starts) for the RailCats before having his contract purchased by the Arizona Diamondbacks on July 7, 2016. After moving to the starting rotation on June 7, the southpaw allowed just eight runs in his six starts (2.20 ERA) for Gary. Gunn pitched for both the Arizona League Diamondbacks and the Kane County Cougars (Lo-A) last year, finishing 5-4 with a 3.36 ERA in 11 games (four starts). The RailCats originally acquired Gunn on August 17, 2015, as part of a three-player trade with Laredo, however, Gunn did not pitch for Gary in 2015.
About the Railcats
A day at U.S. Steel yard is non-stop fun, and that's even without the baseball! The RailCats promise a wide array of laugh-out-loud between inning entertainment, great giveaways , jaw-dropping fireworks and a family-first, kid-friendly atmosphere! RailCats fans come in all ages, shapes, and sizes, and the RailCats promise every fan will have fun.
Quick Links
Find Us
U.S. Steel Yard
One Stadium Plaza
Gary, IN 46402
219.882.2255