Current Roster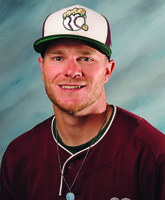 Colin Willis
#21
Position:
OF
Height:
5' 11"
Weight:
185 lbs
College Experience:
Purdue University-Northwest
Bats:
L
Throws:
R
Biography:
Willis will return for his third season with the RailCats after a breakout 2017 season. He led all American Association rookies in 2017 with a .319 batting average, while leading the RailCats in home runs (8), RBIs (54), total bases (145), on-base percentage (.407) and slugging (.482). For his efforts, he was named the American Association Rookie of the Year.
In 2016, Willis hit .231 with three extra-base hits, five RBIs, and three runs in 11 games (39 at-bats). Willis originally signed with Lake Erie Crushers of the Frontier League in the spring of 2016 after hitting .417 with one home run, five extra-base hits and 10 stolen bases for the Yuma Wranglers of the Arizona Winter League. Willis was inducted into the Purdue University North Central Athletic Hall of Fame in 2016 after hitting .364 with five home runs and five RBIs as a senior in 2015. Willis is also the school's single-season leader in in hits (93), runs scored (65) stolen bases (28) and triples (8).
About the Railcats
A day at U.S. Steel Yard is non-stop fun, and that's even without the baseball! The RailCats promise a wide array of laugh-out-loud between inning entertainment, great giveaways, jaw-dropping fireworks and a family-first, kid-friendly atmosphere! RailCats fans come in all ages, shapes, and sizes, and the RailCats promise every fan will have fun.
Quick Links
Find Us
U.S. Steel Yard
One Stadium Plaza
Gary, IN 46402
219.882.2255