Current Roster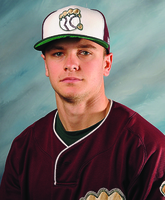 Cole Fabio
#20
Position:
IF
Height:
5' 10"
Weight:
175 lbs
College Experience:
Bryant University
Bats:
R
Throws:
R
Biography:
Fabio signed with the RailCats on July 18, 2017 following his senior year at Bryant University. He hit .260 with 20 hits, three stolen bases, and 12 walks over 26 games with the RailCats. He recorded his first professional hit in his debut on July 18 against former MLB pitcher Winston Abreu of Cleburne.
He hit .280 with two home runs, 23 RBIs, 13 doubles, 53 runs, 19 stolen bases and a team-high 43 walks as a senior in 2017 at Bryant University. Fabio was named Second Team All-NEC this spring and graduated from Bryant University as the school's Division I career leader in runs (172), walks (127) and stolen bases (64).
About the Railcats
A day at U.S. Steel Yard is non-stop fun, and that's even without the baseball! The RailCats promise a wide array of laugh-out-loud between inning entertainment, great giveaways, jaw-dropping fireworks and a family-first, kid-friendly atmosphere! RailCats fans come in all ages, shapes, and sizes, and the RailCats promise every fan will have fun.
Quick Links
Find Us
U.S. Steel Yard
One Stadium Plaza
Gary, IN 46402
219.882.2255