Current Roster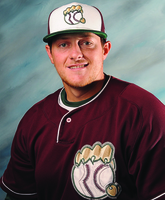 Sam Myers
#40
Position:
P
Height:
6' 2"
Weight:
225 lbs
Bats:
R
Throws:
R
Biography:
Sam Myers returns to Gary after a successful stint with the RailCats in 2017. After signing with the RailCats on August 7, the righty posted a 1.65 ERA over 16.2 innings, spanning 11 outings in relief. He went 2-0 with one save, collecting his first professional win on August 23 against Lincoln and his first save August 31 at Sioux Falls.
Myers playing collegiately at Cal State-Northridge for two seasons. Myers also played at Central Arizona College, where he contributed to a conference championship in 2014. Myers was 9-6 with a 3.49 career ERA over his junior and senior seasons. During his senior season, Myers made 14 starts and 15 total appearances as he logged 90.1 innings of work and striking out 85 batters. His opponents' batting average in 2017 was a mere .222. On May 21, 2017 Myers struck out seven batters in 6.2 innings to get the win against the 13th-ranked team in the nation, Cal State-Fullerton.
About the Railcats
A day at U.S. Steel yard is non-stop fun, and that's even without the baseball! The RailCats promise a wide array of laugh-out-loud between inning entertainment, great giveaways , jaw-dropping fireworks and a family-first, kid-friendly atmosphere! RailCats fans come in all ages, shapes, and sizes, and the RailCats promise every fan will have fun.
Quick Links
Find Us
U.S. Steel Yard
One Stadium Plaza
Gary, IN 46402
219.882.2255