Current Roster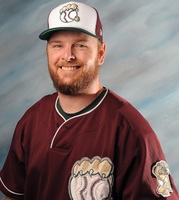 Lars Liguori
#22
Position:
P
Height:
6' 2"
Weight:
215 lbs
College Experience:
Oral Roberts University
Bats:
L
Throws:
L
Biography:
The RailCats re-signed left-handed pitcher Lars Liguori on Feb. 14, 2018. Liguori returns to Gary in 2018 after finishing 1-1 with a 2.60 ERA in 19 relief appearances with the RailCats in 2016. Last year, Liguori pitched for the team's sister club, Schaumburg Boomers of the Frontier League. The southpaw recorded a career-high nine wins, 82 strikeouts, 99.1 innings pitched and 17 starts. A native of Scottsdale, Ariz., Liguori began his professional baseball career in 2014 with the Brownsville Charros of the United Baseball League. Liguori went 0-2 with two complete games, a save and a 2.98 ERA in eight games (five starts) with the Charros before signing with the Sioux City Explorers later in the season. In nine games (eight starts) with the Explorers, Liguori posted a 2-4 record and 6.36 ERA. In 2015, Liguori pitched for the Roswell Invaders of the Pecos League. In seven games (five starts), the southpaw went 4-1 with two complete games and two saves. Liguori struck out 33 hitters in 38.1 innings and allowed just 32 hits and 19 walks in his second year of professional baseball.
About the Railcats
A day at U.S. Steel Yard is non-stop fun, and that's even without the baseball! The RailCats promise a wide array of laugh-out-loud between inning entertainment, great giveaways, jaw-dropping fireworks and a family-first, kid-friendly atmosphere! RailCats fans come in all ages, shapes, and sizes, and the RailCats promise every fan will have fun.
Quick Links
Find Us
U.S. Steel Yard
One Stadium Plaza
Gary, IN 46402
219.882.2255