Current Roster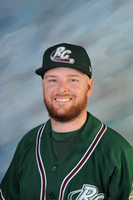 Lars Liguori
#22
Position:
P
Height:
6' 2"
Weight:
215 lbs
College Experience:
Oral Roberts University
Bats:
L
Throws:
L
Biography:
2018
Went 4-7 with a 3.52 ERA in 20 games (13 starts) in his second season with Gary (first since 2016)
Finished eighth among qualifying pitchers in the American Association with a 3.52 ERA
Recorded his first American Association complete game in game one of a doubleheader vs. Chicago on 8/21 (W, 7 IP, 1 R/1 ER, 4 H, 1 BB, 5 K)
Charged with the loss in his first American Association postseason game on 9/6 against St. Paul (3.1 IP, 5 R/5 ER, 8 H, 2 BB, 3 K)
Re-signed with Gary on Oct. 4
2017
Signed with the RailCats sister club, the Schaumburg Boomers of the Frontier League, before the start of the season
Named a Frontier League All-Star for the first time in his career
Went 9-4 with a 3.44 ERA over 18 games (17 starts) in his second season with the Boomers
Posted a career-high nine wins, 82 strikeouts, 99.1 innings, three complete games and 17 starts
2016
Began the season with the Roswell Invaders of the Pecos League
Finished 2-1 with a 6.48 ERA over four starts in his second season with Invaders before having his contract purchased by Schaumburg
Went 0-3 with a 6.19 ERA over three starts in his first season with the Boomers before having his contract purchased by Gary on July 20
Went 1-1 with a 2.60 ERA in 19 relief appearances with Gary
2015
Signed with the Roswell Invaders before the start season
Went 4-1 with two complete games, two saves and a 3.99 ERA over seven games (five starts) in his first season with Roswell
2014
Signed his first professional baseball contract with the Brownsville Charros of the United Baseball League
Went 0-2 with two complete games, a save and a 2.98 ERA in eight games (five starts) with the Charros before having his contract purchased by the Sioux City Explorers
Finished 2-4 with a 6.36 ERA over nine games (eight starts) in his first season in the American Association
2013
Didn't play professional baseball
2012
Went 0-3 with one save and a 2.33 ERA in a team-high 29 relief appearances as a senior at Oral Roberts University
Personal
Named Honorable Mention All-State as a junior and senior at Desert Mountain High School
Was a two-way player at Saddleback College for two years before transferring to Oral Roberts University
Named Second Team All-Conference as a sophomore in 2010 at Saddleback College
Made 59 relief appearances over two seasons at Oral Roberts University
Son of Robert and Lene Liguori

About the Railcats
A day at U.S. Steel Yard is non-stop fun, and that's even without the baseball! The RailCats promise a wide array of laugh-out-loud between inning entertainment, great giveaways, jaw-dropping fireworks and a family-first, kid-friendly atmosphere! RailCats fans come in all ages, shapes, and sizes, and the RailCats promise every fan will have fun.
Quick Links
Find Us
U.S. Steel Yard
One Stadium Plaza
Gary, IN 46402
219.882.2255