Current Roster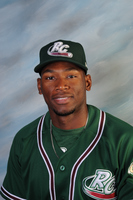 John Price Jr.
#1
Position:
OF
Height:
6' 2"
Weight:
205 lbs
College Experience:
Faulkner University
Bats:
R
Throws:
R
Biography:
2018
Signed his first professional baseball contract with Gary on Jan. 8
Slashed .253/.285/.418/.703 with 20 runs, 43 hits, nine doubles, two triples, five home runs, 16 extra-base hits, 17 RBIs, three hit by pitches in 49 games between Gary, Gateway and Florence
Slashed .217/.213/.304 with four runs, 10 hits, two doubles, one triple, three extra-base hits, an RBI and a sacrifice fly in 13 games with Gary before getting traded to the Gateway Grizzlies of the Frontier League on 7/4
Went 1-for-4 with a run and a sacrifice fly on 5/20 vs. St. Paul in his professional baseball debut
Recorded his first pro hit in his first pro at-bat on 5/20 vs. St Paul off LHP Jeff Malm
Forced extra innings with a sacrifice fly off former MLB pitcher Tom Wilhelmsen in the bottom of the ninth on 5/20 vs. St. Paul
Released by Gary on 5/22 before re-signing with Gary on 6/1
Went 1-for-4 in his first game back with Gary after re-signing with the club
Recorded his first extra-base hit and multi-hit game on 6/22 against Sioux City
Slashed .200/.217/.311/.529 with six runs, nine hits, two doubles, one home run, three extra-base hits and two RBIs in 11 games with Gateway
Went 2-for-5 with two runs a double on 7/6 against the now defunct Traverse City Beach Bums in his Frontier League debut
Signed with the Florence Freedom of the Frontier League on Aug. 3
Slashed .304/.360/.544/.905 with 10 runs, 24 hits, five doubles, one triple, four home runs, 10 extra-base hits, 14 RBIs and three hit by pitches in 25 games with Florence
Went 2-for-4 with a double, home run, a sacrifice fly and two runs on 8/4 vs. Lake Erie in his debut with Florence
Traded to Gary from Florence on Oct. 5 to complete an earlier transaction between the two teams
2017
Slashed .365/.436/.625/1.061 with 64 runs, 76 hits, 17 doubles, two triples, 11 home runs, 40 extra-base hits, 55 RBIs and 27 stolen bases as a senior at Faulkner University
Finished second on the Eagles with 64 runs, 17 doubles, 55 RBIs, 130 total bases and a .625 slugging percentage
Personal
Attended Wallace Community College—Dothan for the first two seasons of his collegiate baseball career before transferring to the University of West Florida in 2016 for his junior season
Named a First Team All-American, First Team All-Region, the Conference Player of the Year and the Alabama Junior College Player of the Year after batting .412 with five home runs and 30 stolen bases as a sophomore at Wallace Community College
Son of John Price Sr. and Jacquelyn Lunford; has a son, John Price III

About the Railcats
A day at U.S. Steel Yard is non-stop fun, and that's even without the baseball! The RailCats promise a wide array of laugh-out-loud between inning entertainment, great giveaways, jaw-dropping fireworks and a family-first, kid-friendly atmosphere! RailCats fans come in all ages, shapes, and sizes, and the RailCats promise every fan will have fun.
Quick Links
Find Us
U.S. Steel Yard
One Stadium Plaza
Gary, IN 46402
219.882.2255