Current Roster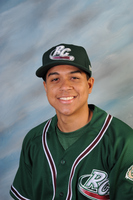 Andy DeJesus
#5
Position:
IF
Height:
5' 10"
Weight:
175 lbs
College Experience:
Indiana State
Bats:
S
Throws:
R
Biography:
2018
Re-signed with Gary on Jan. 9 and added to 23-man active roster on May 26
Slashed .290/.319/.345/.664 with 32 runs, 85 hits, nine doubles, two triples, one home run, 12 extra-base hits, 39 RBIs, one hit by pitch, 11 stolen bases and three sacrifice flies in 78 games with Gary
Posted a career-high .290 batting average, .319 on-base percentage, .664 OPS, 78 games, 315 plate appearances, 293 at-bats, 32 runs, 85 hits, 39 RBIs, 13 walks, one hit by pitch, 11 stolen bases and three sacrifice flies
Hit safely in his first eight games
Hit a walk-off sacrifice fly on 7/23 vs. St. Paul
Hit his first home run of the year in game one of a doubleheader on 7/27 against Cleburne
Hit a walk-off single in game one of a doubleheader on 8/23 vs. Fargo-Moorhead
Went 1-for-13 with a double, a walk and a sacrifice hit in the American Association North Division Series
2017
Re-signed with Gary before the start of the season
Slashed .254/.286/.360/.646 with 25 runs, 58 hits, 13 doubles, two triples, two home runs, 18 extra-base hits, 19 RBIs, nine stolen bases and two sacrifice flies in 73 games with Gary
Posted a career-high 14 doubles and 18 extra-base hits
Drove in the game-winning run on 5/24 against Kansas City with an RBI single in the top of the 13th
Recorded his first career four-hit game in game one of a doubleheader on 7/27 vs. Salina
Went 2-for-7 with a run, a double and an RBI in the American Association Semifinals
2016
Signed his first professional baseball contract with Gary on July 26
Slashed .262/.276/.381/.657 with 11 runs, 22 hits, two doubles, one triple, two home runs, five extra-base hits, 13 RBIs, four stolen bases and one sacrifice fly in 25 games with Gary
Went 0-for-4 with a run on 7/26 against Kansas City in his professional baseball debut
Recorded his first professional hit and run on 7/31 against the Texas AirHogs
Personal
Attended Iowa Central University from 2013-14 before transferring to Indiana State University for the 2015 and 2016 seasons
Named NJCAA First All-Region honors as a sophomore in 2014 after hitting a team-high .379 with 40 RBIs and 11 stolen bases at Iowa Central
Was a two-year starter at Indiana State
Named First Team Missouri Valley Conference and All Defensive Team after slashing .282/.341/.436/.777 with 39 runs, 68 hits, 15 doubles, eight triples, two home runs, 22 RBIs, five stolen bases, four hit by pitches and a sacrifice fly in 55 games as a senior at Indiana State in 2016
Led the Indiana State Sycamores with eight triples in 2016
Son of Tomas E De Jesus Garcia and Ada Glisa Castillo Beaton

About the Railcats
A day at U.S. Steel Yard is non-stop fun, and that's even without the baseball! The RailCats promise a wide array of laugh-out-loud between inning entertainment, great giveaways, jaw-dropping fireworks and a family-first, kid-friendly atmosphere! RailCats fans come in all ages, shapes, and sizes, and the RailCats promise every fan will have fun.
Quick Links
Find Us
U.S. Steel Yard
One Stadium Plaza
Gary, IN 46402
219.882.2255