Current Roster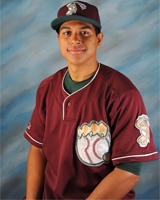 Andy DeJesus
#5
Position:
IF
Height:
5' 10"
Weight:
175 lbs
College Experience:
Indiana State
Bats:
S
Throws:
R
Biography:
Andy DeJesus returns for his third season with the RailCats. DeJesus played in 73 games during the 2017 campaign, batting .254 with two home runs, 19 RBIs, and nine stolen bases. DeJesus also slashed 14 doubles, which was fourth on the squad. He made his professional debut with the RailCats on July 26, 2016, batting .262 with two home runs and 13 RBIs over 25 games.
DeJesus is a native of Santo Domingo, Dominican Republic. He played two years of college baseball at Central Iowa Community College, before playing his final two collegiate seasons for the Indiana State Sycamores. As a senior in 2016, he hit .282 with two homers, 22 RBIs, 39 runs, 15 doubles, and a Missouri Valley-leading eight triples. He was named First-Team All-Missouri Valley Conference for his efforts, while also making the MVC All-Defensive Team.
About the Railcats
A day at U.S. Steel Yard is non-stop fun, and that's even without the baseball! The RailCats promise a wide array of laugh-out-loud between inning entertainment, great giveaways, jaw-dropping fireworks and a family-first, kid-friendly atmosphere! RailCats fans come in all ages, shapes, and sizes, and the RailCats promise every fan will have fun.
Quick Links
Find Us
U.S. Steel Yard
One Stadium Plaza
Gary, IN 46402
219.882.2255