Front Office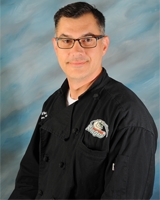 Phil West
Director of Food and Beverage
Phone:
(219) 882-2255 x238
E-mail:
Phil West returns to the RailCats in 2018 as the Director of Food & Beverage. Phil is a Valpo native who started his food career 28 years ago. He managed restaurants and bars while completing a BS in Geography at Ball State University. Between the years 1999-2011 he spent his time in several well-known restaurants and bars in Chicago, as well as, establishing Bottom Line Hospitality Group, a bar and restaurant consulting company.
In 2007, Phil returned to school and earned a second Bachelor's Degree in Hotel/Hospitality Management at Kendall College in Chicago. In 2009, he was instrumental in re-launching the Historic Ambassador East Hotel and the famous Pump Room. Phil returned to Valparaiso in 2011 to care for his mother during her cancer treatments, until her passing. He decided that he loved all the changes that Valpo had undergone and decided to buy a house and return here permanently with his new wife Kathryn. Most recently, he was the owner/operator of Hungry, Inc., a food truck(s) and catering company serving northwest Indiana. In his free time, he is an avid motorcycle rider, camper and outdoor enthusiast.
About the Railcats
A day at U.S. Steel Yard is non-stop fun, and that's even without the baseball! The RailCats promise a wide array of laugh-out-loud between inning entertainment, great giveaways, jaw-dropping fireworks and a family-first, kid-friendly atmosphere! RailCats fans come in all ages, shapes, and sizes, and the RailCats promise every fan will have fun.
Quick Links
Find Us
U.S. Steel Yard
One Stadium Plaza
Gary, IN 46402
219.882.2255