Front Office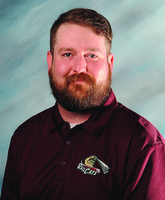 Ryan Raymond
Director of Food and Beverage
Phone:
219-882-2255 x 238
E-mail:
Ryan Raymond joins the RailCats in 2018 as the Director of Food and Beverage, making sure the stadium's drinks are cold and food is hot. Prior to joining the RailCats, Ryan spent five years overseeing Blue Chip Casino's banquets, conventions and catering. Ryan has long been a fan of the RailCats and joins the team with great enthusiasm—baseball is his calling. Raised in the St. Louis metro area, Ryan is an avid Cardinals fan. He now lives in Gary's Miller neighborhood with his partner, Natalie, and his furry and feathered family which includes a retired racing Greyhound and four chickens.
When Ryan isn't enjoying a craft beer at one of Northwest Indiana's many breweries, or striking up a friendly rivalry with Cubs fans, you might nd him working on his record collection or volunteering at local Environmental organizations.
About the Railcats
A day at U.S. Steel Yard is non-stop fun, and that's even without the baseball! The RailCats promise a wide array of laugh-out-loud between inning entertainment, great giveaways, jaw-dropping fireworks and a family-first, kid-friendly atmosphere! RailCats fans come in all ages, shapes, and sizes, and the RailCats promise every fan will have fun.
Quick Links
Find Us
U.S. Steel Yard
One Stadium Plaza
Gary, IN 46402
219.882.2255