Front Office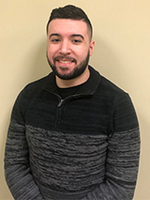 Matthew Santiago
Account Executive
Phone:
219-882-2255
E-mail:
Matthew Santiago joins the RailCats for the 2020 season as Account Executive. Prior to joining the team, Matt began his hand at B2B relations in different capacities from sales to marketing. He is a 2018 alumnus of Columbia College Chicago and has achieved his Bachelor of Arts in Video Game Design. In addition to sponsorships & group sales, Matt has applied his game design knowledge and created the highly rated and successful Gary SouthShore RailCats Home Run Derby video game found on all RailCats social media platforms.
Matt was born in Munster, IN and was raised in many cities all over Northwest Indiana until meeting his Portage High School sweetheart Courtney. Over 10 years later, the two own a home in Hobart, IN and have welcomed their first baby boy, Liam. On his spare time, Matt enjoys volunteering with his wife at their home church, video games, books, movies, podcasts, music, and Chick-Fil-A.
About the Railcats
A day at U.S. Steel Yard is non-stop fun, and that's even without the baseball! The RailCats promise a wide array of laugh-out-loud between inning entertainment, great giveaways, jaw-dropping fireworks and a family-first, kid-friendly atmosphere! RailCats fans come in all ages, shapes, and sizes, and the RailCats promise every fan will have fun.
Quick Links
Find Us
U.S. Steel Yard
One Stadium Plaza
Gary, IN 46402
219.882.2255