Current Roster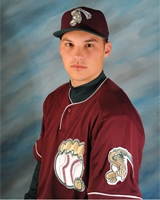 Christian Herstine
#0
Position:
P
Height:
6' 3"
Weight:
205 lbs
College Experience:
Marietta College (Oh.)
Bats:
L
Throws:
R
Biography:
Christian Herstine signed with the RailCats on May 31. This is his second stint with the RailCats after playing with the team in 2016. He had a 1.03 ERA and 10 strikeouts in 8.2 innings pitched (five appearances). Herstine signed with the Yankees last July, but did not make any appearances in the Yankees system. Herstine played his college baseball with Marietta College in Ohio where he received numerous all conference and all-region appearances.
About the Railcats
A day at U.S. Steel yard is non-stop fun, and that's even without the baseball! The RailCats promise a wide array of laugh-out-loud between inning entertainment, great giveaways , jaw-dropping fireworks and a family-first, kid-friendly atmosphere! RailCats fans come in all ages, shapes, and sizes, and the RailCats promise every fan will have fun.
Quick Links
Find Us
U.S. Steel Yard
One Stadium Plaza
Gary, IN 46402
219.882.2255