Current Roster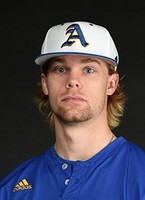 Jake Matthys
#57
Position:
P
Height:
5' 11"
Weight:
190 lbs
College Experience:
Angelo State University (Texas)
Bats:
R
Throws:
R
Biography:
Matthys signed with the RailCats on June 23, 2017. He recently graduated from Angelo State University in Texas where he finished his senior season with an 8-4 record and a 4.45 ERA. Prior to Angelo State, Matthys played at Kansas State and Southwest Minnesota State.
About the Railcats
A day at U.S. Steel yard is non-stop fun, and that's even without the baseball! The RailCats promise a wide array of laugh-out-loud between inning entertainment, great giveaways , jaw-dropping fireworks and a family-first, kid-friendly atmosphere! RailCats fans come in all ages, shapes, and sizes, and the RailCats promise every fan will have fun.
Quick Links
Find Us
U.S. Steel Yard
One Stadium Plaza
Gary, IN 46402
219.882.2255