Current Roster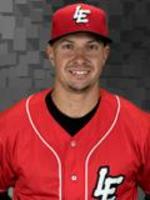 Chandler Jagodzinski
#0
Position:
P
Height:
5' 11"
Weight:
205 lbs
College Experience:
University of North Florida
Bats:
R
Throws:
R
Biography:
Chandler Jagodzinski was signed by Gary on Dec. 20, 2017, after going 3-5 with a 4.47 ERA in 2017 for the Lake Erie Crushers of the Frontier League. The right-hander finished fifth in the Frontier League with 18 saves in 34 relief outings and struck out 31 hitters in 34.1 innings. Jagodzinski signed his first professional baseball contract with the River City Rascals of the Frontier League in 2013 and went 2-3 with a 2.20 ERA in 37 relief appearances. A native of Orlando, Fla., Jagodzinski struck out 49 batters in 57.1 innings and held opposing hitters to a career-best .189 average. Jagodzinski returned to River City in 2014 and finished the season 5-1 with one save and a 4.95 ERA in 44 relief appearances. In 2015, Jagodzinksi went 0-3 with a 3.22 ERA in 17 relief outings for the Rascals before getting traded to the Normal Cornbelters. Jagodziniski went 2-1 with one save and a 5.54 ERA in 12 games (one start) for Normal. Jagodzinski was then traded to the Lake Erie Crushers on Nov. 21, 2015 and finished the 2016 campaign 3-3 with a 2.28 ERA. The right-hander was named a Frontier League All-Star after leading the Lake Erie pitching staff with 14 saves and 48 relief appearances.
About the Railcats
A day at U.S. Steel yard is non-stop fun, and that's even without the baseball! The RailCats promise a wide array of laugh-out-loud between inning entertainment, great giveaways , jaw-dropping fireworks and a family-first, kid-friendly atmosphere! RailCats fans come in all ages, shapes, and sizes, and the RailCats promise every fan will have fun.
Quick Links
Find Us
U.S. Steel Yard
One Stadium Plaza
Gary, IN 46402
219.882.2255