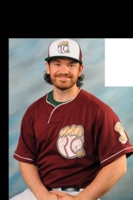 Trevor Lubking
#37
Position:
P
Height:
6' 0"
Weight:
205 lbs
Pro Experience:
Gary SouthShore (2019)
College Experience:
Pacific Lutheran University
Bats:
L
Throws:
L
Biography:
2019
In his first year with the RailCats, Lubking went 6-11 yet tallied a team-high 139 innings on the bump en route to a team-best 108 strikeouts and a 4.53 ERA. Nobody got more starts than Lubking's 24 on the year and the 26 year old was able to record one complete game during the course of the season.
2018
Signed with the Gateway Grizzlies of the Frontier League on May 25
Posted a career-high 23 appearances and seven games finished between the Gateway Grizzlies, San Rafael Pacifics and the Lincoln Saltdogs
Went 0-1 with a 9.82 ERA in seven games (two starts) with Gateway
Recorded a no-decision in his Frontier League debut on 6/2 vs. the now defunct Normal Cornbelters (3 IP, 0 R/0 ER, 2 H, 1 BB, 2 K)
Signed with the San Rafael Pacifics of the Pacific Association of Professional Baseball Clubs (PACA) and went 1-0 with a 1.96 ERA in 12 relief appearances
Tossed two scoreless innings of relief in his PACA debut on 7/12 vs. the Sonoma Stompers (2 IP, 0 R/0 ER, 0 H, 4 BB, 2 K)
Recorded his first PACA win on 7/25 vs. the Vallejo Admirals (2.2 IP, 0 R/0 ER, 0 H, 1 BB, 2 K)
Had his contract purchased by the Lincoln Saltdogs and finished without a record and a 1.93 ERA in four relief appearances
Allowed one run out of the bullpen in his American Association debut on 8/24 against the Cleburne Railroaders (1 IP, 1 R/1 ER, 2 H, 1 BB, 1 K)
Didn't allow a run in his last three appearances of the season with Lincoln (3.2 IP, 0 R/0 ER, 1 H, 1 BB, 4 K)
Traded from Lincoln along with OF Angel Reyes to the Sussex County Miners of the Can-Am League on Dec. 5 as part of a three-way trade with Cleburne
2017
Didn't play professional baseball
2016
Didn't play professional baseball
2015
Signed a minor league contract with the Milwaukee Brewers on April 24
Went 0-1 with one save and a 6.10 ERA in seven relief appearances with the Arizona League Brewers (Rookie Affiliate)
Struck out all three batters he faced in his Arizona League debut on 7/22 against the Arizona League Dodgers
Recorded his first professional save on 7/28 vs. the Arizona League Padres (1 IP, 0 R/ 0 ER, 0 H, 0 BB, 1 K)
Didn't allow a run in five of his seven appearances with the AZL Brewers
2014
Selected by the Tampa Bay Rays in the 14th round of the MLB Draft out of Pacific Lutheran University as a junior
Went 2-4 with a 3.51 ERA in 12 games (10 starts) with the Princeton Rays of the Appalachian League (Rookie Affiliate)
Charged with the loss in his first professional baseball debut on 6/23 against the Greeneville Astros (3 IP, 3 R/3 ER, 6 H, 0 BB, 2 K)
Recorded his first professional win on 7/30 against the Bristol Pirates (5 IP, 2 R/2 ER, 5 H, 1 HB, 1 BB, 2 K)
Named the Appalachian League Pitcher of the Week for the week ending on 7/28
Posted a career-high 10 starts, 3.51 ERA, 48.2 innings pitched, 43 strikeouts, .234 opponents batting average, 1.11 WHIP, 8 SO9 (strikeouts per nine innings), 1.8 BB9 (walks per nine innings) and 4.30 SO/W (strikeout to walk ratio)
Personal
Named All-State as a senior at White River High School in 2011
Pitched collegiately at Pacific Lutheran University from 2012-14
Pitched for the Wenatchee Applesox of the West Coast Summer Baseball League in 2012 and 2013
Named Second Team All-Northwest Conference as a freshman in 2012 and First Team All-Northwest Conference as a sophomore and junior at PLU from 2013-14
Named Second Team All-West Region as a junior in 2014 at PLU
Didn't allow a run in two starts with the Mankato Moondogs of the Northwoods Summer Baseball League in 2014 (11.2 IP, 0 R/0 ER, 9 H, 4 BB, 11 K)
Third all-time among PLU pitchers with 290 strikeouts and fifth with a 2.85 ERA
Son of Thomas and Cathy Lubking; has a brother, Mallor
About the Railcats
A day at Steel Yard is non-stop fun, and that's even without the baseball! The RailCats promise a wide array of laugh-out-loud between inning entertainment, great giveaways, jaw-dropping fireworks and a family-first, kid-friendly atmosphere! RailCats fans come in all ages, shapes, and sizes, and the RailCats promise every fan will have fun.
Quick Links
Find Us
Steel Yard
One Stadium Plaza
Gary, IN 46402
219.882.2255