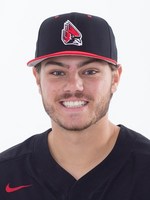 Nick Floyd
#55
Position:
P
Height:
6' 2"
Weight:
205 lbs
College Experience:
Ball State University
Bats:
R
Throws:
R
Biography:
2019
Signed his first professional baseball contract with Gary on June 16th
Graduated from Ball State University in May
In his senior season he went 8-0 with a 1.92 ERA in 24 appearances (3 starts)
Didn't allow a run in his last 19.1 innings of the season
2018
Went 5-1 in his junior season with a 5.07 ERA
Named to the Academic All-MAC team
Played for the Valley Blue Sox of the New England Summer Collegiate Baseball League
Finished 0-3 in 9 appearances (4 starts) with a 4.20 ERA
2017
Named Ball State's Most Improved Player and names to the Academic All-MAC Team
Went 2-2 with a 2.21 ERA and picked up a save
Personal
Floyd resides in Elkhart and went to Jimtown High School
His junior year he set a school record with 78 strikeouts in a single season
About the Railcats
A day at Steel Yard is non-stop fun, and that's even without the baseball! The RailCats promise a wide array of laugh-out-loud between inning entertainment, great giveaways, jaw-dropping fireworks and a family-first, kid-friendly atmosphere! RailCats fans come in all ages, shapes, and sizes, and the RailCats promise every fan will have fun.
Quick Links
Find Us
Steel Yard
One Stadium Plaza
Gary, IN 46402
219.882.2255