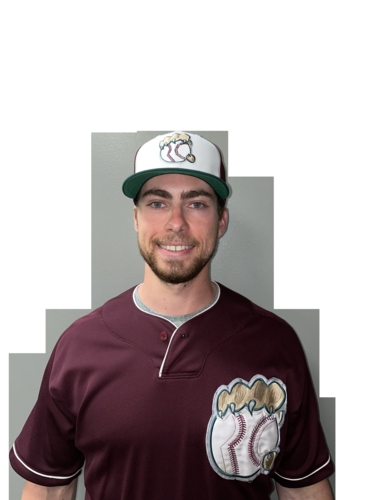 Jack Alkire
#48
Position:
P
Height:
5' 11"
Weight:
205 lbs
Pro Experience:
Milwaukee Milkmen (2020)
College Experience:
VCU (2019)
Bats:
R
Throws:
R
Biography:
Professional Career
2020
After the cancellation of the RailCats 2020 season, Alkire signed with Milwaukee. The Virginia native appeared in just two games for the Milkmen, adding two total innings of work.
2019
Following his graduation from VCU, Jack Alkire joined the Gary SouthShore RailCats in 2019 as a relief pitcher. Alkire believed a 3.71 ERA in 34 innings of work over 22 appearances out of the pen. His 44 strikeouts matched the second best mark in his career, but his 11.6 strikeouts per nine was a career-best, including all of his four seasons with VCU.
Virginia Commonwealth University
2019
A recent graduate from Virginia Commonwealth University, Alkire went 6-1 with a 4.26 ERA in 17 games (seven starts) as a senior. The right-hander allowed 27 runs (24 earned runs) on 41 hits and 21 walks while striking out 49 batters in a career-high 50.2 innings. Alkire limited opponents to a .218 batting average and tied for the team lead with six victories.
2018
Alkire went 1-1 with a 2.50 ERA in 15 games (five starts). In 39.2 innings pitched, Alkire allowed 13 runs (11 earned) on 18 hits and 24 walks while striking out 44 batters. Alkire posted a career-best 1.06 WHIP and held opponents to a team-best .140 batting average.
2017
As a sophomore in 2017, Alkire made one appearance against Marist, allowing two runs on two hits and a walk while striking out one. During the summer of 2017, Alkire played for the Bethesda Big Train of the Cal Ripken League, going 1-1 with a 5.21 ERA in in 13 relief appearances. In 19 innings, the right-hander allowed 16 runs (11 earned) on 25 hits and 13 walks while striking out 22 batters.
2016
As a freshman in 2016, Alkire went 1-1 with a 9.42 ERA in nine games (one start). In 14 innings, Alkire allowed 19 runs (15 earned) on 30 hits and seven walks while striking out 13 batters. During the summer of 2016, Alkire pitched for the Charlottesville TomSox of the Valley League, going 2-1 with a 4.23 ERA in 11 games (five starts). In 38.1 innings, Alkire allowed 19 runs (18 earned) on 35 hits and 12 walks while striking out 22 batters.
Prior to beginning his collegiate career in 2016, Alkire was the third-rated prospect in the state of Maryland for the 2015 graduating class and was named Second Team All-MET by the Washington Post.
Personal
Son of Scott and Angela Alkire
About the Railcats
A day at Steel Yard is non-stop fun, and that's even without the baseball! The RailCats promise a wide array of laugh-out-loud between inning entertainment, great giveaways, jaw-dropping fireworks and a family-first, kid-friendly atmosphere! RailCats fans come in all ages, shapes, and sizes, and the RailCats promise every fan will have fun.
Quick Links
Find Us
Steel Yard
One Stadium Plaza
Gary, IN 46402
219.882.2255