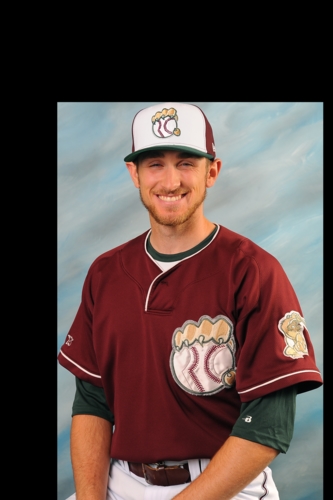 Jackson Smith
#72
Position:
C
Height:
6' 1"
Weight:
185 lbs
Pro Experience:
Westside Woolly Mammoths
College Experience:
Corban University
Bats:
L
Throws:
R
Biography:
Professionals Career
2019
Smith returned to the Wooly Mammoths for 34 games in 2019 before making the move to the RailCats late in the season where he only appeared in three contests. Jackson batted a combined .243 clip during 2019 while driving nine runs across the plate in 121 collective plate appearances.
2018
After finishing his bachelor's degree at Corban, Smith joined the Westside Wooly Mammoths of the United Shore League where the first-year catcher batted .271/.328/.373 in 42 games of action. The Salem, Oregon native blasted four home runs and drove in 15 during his first season with the Wooly Mammoths.
Coaching Career
Smith joined the Corban baseball staff as an assistant coach after an incredibly successful college career. Playing in Warrior uniform for all four years of his collegiate career, Smith garnered Two-Time Conference Gold Glove awards as well as All-CCC Recipient honors.

Smith will serve as the catcher's coach, first base coach, and camp coordinator.
While coaching, Smith is finished his bachelor's degree in Interdisciplinary Studies, Exercise Science and Sports Management, which he received in December of 2017.
Corban University
2016
Junior catcher for the Warrior squad that advanced to the Conference Tournament and was one game away from qualifying for the NAIA National Tournament… Started in 38 games out of 38 appearances… Registered 134 at-bats, compiling 33 hits and four runs scored while adding 18 RBI… Registered a .246 batting average on the year… Notched 44 assists and a team-best 208 put-outs… Named to the NAIA West Grouping All-Conference Team… Collected NAIA-West Grouping Gold Glove honors… Landed on the CCC Academic All-Conference Team… Named an NAIA Scholar-Athlete… Member of the squad that garnered NAIA Scholar-Team plaudits…
2015
Sophomore catcher for the Warrior team that qualified for the NAIA West Conference Tournament… Appeared in 35 games, starting 27… Hit .259 on the season… Compiled a .995 fielding-percentage on the year… Earned CCC Academic All-Conference honors…

2014
Played catcher on the record-setting 2014 team that finished tied for third in NAIA West regular season and in third place in the NAIA West Tournament… Made 19 starts in 27 total appearances… Registered a .245 batting average in 53 at-bats… Collected 13 hits and three RBI… Recorded 132 putouts and finished the season with a fielding average of .986…
HIGH SCHOOL
Graduated from Sprague High School in 2012 with honors … Competed in baseball (4 years) … Was 2nd Team All-League catcher his senior year.

PERSONAL
Born in Salem, Oregon to Tim and Tracy Smith … Is 1 of 2 children … Has on brother (J.D.), who also attends Corban … Enjoys yo-yoing, playing the trombone, and video games … Major: Sports Management...
About the Railcats
A day at Steel Yard is non-stop fun, and that's even without the baseball! The RailCats promise a wide array of laugh-out-loud between inning entertainment, great giveaways, jaw-dropping fireworks and a family-first, kid-friendly atmosphere! RailCats fans come in all ages, shapes, and sizes, and the RailCats promise every fan will have fun.
Quick Links
Find Us
Steel Yard
One Stadium Plaza
Gary, IN 46402
219.882.2255