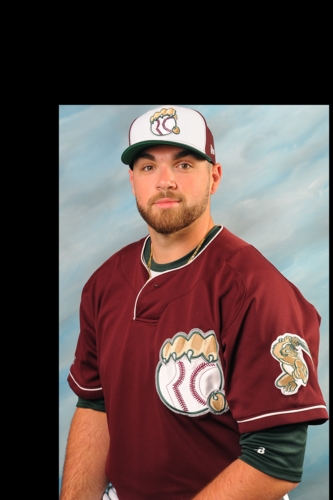 Adam Heidenfelder
#66
Position:
P
Height:
6' 5"
Weight:
260 lbs
College Experience:
State University of New York-Old Westbury
Bats:
R
Throws:
R
Biography:
State University of New York- Old Westbury
After pitching in 21 games at SUNY Old Westbury, Adam Heidenfelder returned to his alma mater as the assistant baseball coach ahead of the 2020 season.
As a Panther, Heidenfelder shined in his final season on the mound as he concluded the 2019 season with career highs in earned run average (1.89), wins (4), complete games (3), complete game shutout (1), innings pitched (47.2) and strikeouts (43). The second-team All-Skyline selection led the conference in losses (1) while ranking among the league leaders in earned run average (3rd), opposing batting average (5th, .213), innings pitched (14th), batters struck out (9th), batters struck out looking (T-6th, 14), wins (T-4th), sacrifice bunts allowed (T-2nd, 2), sacrifice flies allowed (T-2nd, 2), hits allowed (4th, 38), runs allowed (T-2nd, 13), earned runs allowed (3rd, 10), walks allowed (T-3rd, 10) and doubles allowed (T-6th, 8).
Over his career, Heidenfelder posted an 8-5 record with a 3.26 earned run average while holding opposing batters to a .235 average as a Panther. He also fired 95 strikeouts (33 walks) in 110.1 innings of work.

Throughout his career, the former team captain garnered multiple awards as he was recognized as the Skyline Conference Pitcher of the Week twice and was named to the Skyline Conference Weekly Honor Roll once. After his 2019 season, he was named to a pair of second teams including All-Skyline and D3baseball.com All-New York Region. He was also named to the 2019 ABCA/Rawlings All-New York Region third-team.

He also excelled in the classroom as he was named to the Athletic Director's Academic Honor Roll five times and was named to the Skyline Conference Academic Honor Roll twice. Before pitching for the Panthers, Heidenfelder played for Hofstra University (NCAA Division I) for two seasons (2015-16) and was a Colonial Athletic Association (CAA) Commissioner's Academic Award recipient.
Prior to SUNY-Old Westbury

Since 2018, Heidenfelder has held the head coach and pitching coordinator title for the Diamond Spikes Baseball Organization. During his time at the New York Baseball Academy in 2014-16, Heidenfelder taught children ranging from ages nine to 17 the fundamentals of baseball.
Hofstra University, 2015: Made 13 appearances as a freshman with eight starts…Was 0-5 with an 8.76 ERA…Had 26 strikeouts in 37 innings of work…Allowed three runs on seven hits over seven innings in a no-decision at Charleston…Struck out a season-high six batters in five innings against Massachusetts-Lowell…Allowed two hits over six scoreless innings in a no-decision at Villanova…Threw scoreless innings of relief versus Manhattan and Elon...CAA Commissioner's Academic Award recipient.
Heidenfelder, a graduate of MacArthur High School, had a stellar high school career as he garnered multiple awards and was a back-to-back Doug Robbins Memorial Diamond Award recipient (2013-14). He also earned first-team All-Long Island and All-Nassau County honors in 2013-14. In 2014, he was named Nassau County Player of the Year, made the All-New York State second-team and was a Perfect Game All-American High Honorable Mention.
Personal

Heidenfelder, a native of Wantagh, New York, earned his bachelor's degree in history in 2019. Outside of baseball, Adam is a fan of both football and hockey. His favorite professional sports teams are the Miami Dolphins, New York Rangers, and New York Mets. After a game, Adam likes to eat Moe's Southwest Grill for dinner, his favorite meal of the day. While playing in college, Adam wore No. 22 because it's his father's number, and he's always looked up to his dad.
About the Railcats
A day at Steel Yard is non-stop fun, and that's even without the baseball! The RailCats promise a wide array of laugh-out-loud between inning entertainment, great giveaways, jaw-dropping fireworks and a family-first, kid-friendly atmosphere! RailCats fans come in all ages, shapes, and sizes, and the RailCats promise every fan will have fun.
Quick Links
Find Us
Steel Yard
One Stadium Plaza
Gary, IN 46402
219.882.2255