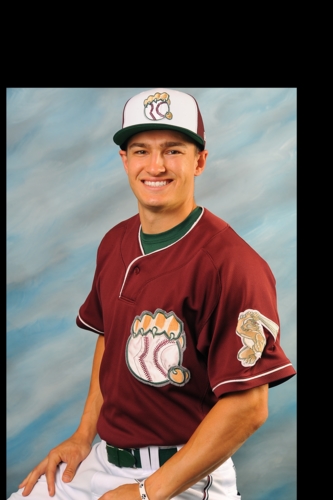 Billy Cooke
#25
Position:
OF
Height:
5' 10"
Weight:
175 lbs
Pro Experience:
Tacoma Rainers (2019)
College Experience:
Coastal Carolina
Bats:
R
Throws:
R
Biography:
2019
Billy Cooke spent his 2019 season split between four minor league clubs ranging from Low-A to AAA, culminating in a 17-game stint with the Tacoma Rainers to close out the season. While with the Rainers, Cooke posted a .275 batting average and added five RBI on 14 base hits. Just prior to the AAA call up with the Tacoma, Cooke spent five games with the HiA Modesto Nuts where his .500 OBP earned him enough recognition to make the jump to the Pacific Coast League. Cooke's best showing during 2019 came with the HiA Everett AquaSox of the NorthWest League, his second tour with Everett after beginning his career there, where the Florida native slashed .304/.407/.507 over 69 at bats in 22 games played.
2018
During his second year in minor league ball, Cooke began the season with the AZL Mariners, but quickly made the jump to LoA as he joined the Clinton LumberKings of the MidWest League. During his one season with Clinton, Cooke batted .175 over 95 games while adding nine extra-base hits and 15 RBI. Cooke spent the majority of his professional career with Clinton, playing a total of 137 games for the LumberKings over the course of the 2017 and 2018 seasons.
2017
At age 21, Cooke began his professional baseball career with the HiA Everett AquaSox, but it only took three game with Everett before Cooke made the move to the LoA Clinton LumberKings. Cooke's 2017 with the LumberKings consisted of a .156 batting average over 42 games played in which the Coastal Carolina alumnus drove in nine runs and lifted a career-high two home runs in a single season. This total was eventually tied in 2019 during his second stint with Everett.
Coastal Carolina University
Following a red-shirt freshman year in 2014, Cooke began his 2015 campaign as the Opening Day starter in Center Field for the Chanticleers. Yet, his season was cut short after injuring his hand in the season opener.

With a vengeance, Cooke returned for a dominant sophomore campaign in 2016, in which the righty earned honorable mention All-Big South honors and was voted to the NCAA Raleigh Regional All-Tournament team. The center fielder batted .324 with 16 doubles in 72 games played, 71 of which he started. Cooke reached base safely in 59 of his 72 games played, and ranked 17th in the NCAA with a team-best 14 sac bunts. During the NCAA Regional, Cooke added a team-high .412 batting average to propel Coastal Carolina to its first Super Regional since 2010. Cooke provided a staple in the bottom of the CCU lineup, which claimed the first College World Series National Championship in program history.

Cooke also earned the top spot on SportsCenter's Top 10 plays with a diving catch against Georgia Tech on April 29, 2016.
About the Railcats
A day at Steel Yard is non-stop fun, and that's even without the baseball! The RailCats promise a wide array of laugh-out-loud between inning entertainment, great giveaways, jaw-dropping fireworks and a family-first, kid-friendly atmosphere! RailCats fans come in all ages, shapes, and sizes, and the RailCats promise every fan will have fun.
Quick Links
Find Us
Steel Yard
One Stadium Plaza
Gary, IN 46402
219.882.2255