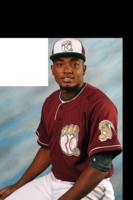 Jesus Marriaga
#18
Position:
OF
Height:
6' 0"
Weight:
170 lbs
Pro Experience:
Hillsboro Hops
Bats:
R
Throws:
R
Biography:
Professional Career
2019
Following three season in either rookie or foreign-rookie ball, Marriaga got the nod to join the short-season A Hillsboro Hops. In his busiest season to date, the then-20 year old played in 66 games for the hops, batting .244/.374/.350 over 286 plate appearances. In what was a career-year for Marriaga, he saw career-best numbers in hits (57), runs scored (51), doubles (14), triples (4), home runs (1), RBI (27), and walks (45). Marriaga also led his team in plate appearances, at bats, runs, hits, doubles, stolen bases, walks, and strikeouts.
2018
Marriaga found himself with the Missoula Osprey in 2018 playing his second season of rookie-ball at 19 years old. In the Osprey jersey, Marriaga saw 191 plate appearances as he delivered a .271 average while driving in 12 and scoring 29 runs. In Missoula, Marriaga's strikeout rate reached a career best. At 17 and 18 years of age, Marriaga struck out at 27.2% and 36.8% clips respectively, but in his third season, he reduced that number to 25.1%.
2017
In year two, Marriaga was active for a team-high 51 games with the Rookie-classified AZL Diamondbacks. While hitting .205/.299/.297, the Colombia native recorded 38 hits, 12 of which resulted in extra bases, and crossed the plate 28 times, good for second on the team. He also drove in 15 and stole a team-best 11 bases in addition to walking 20 times on the year, the most on the roster.
2016
At the ripe age of 17 years old, Jesus Marriaga signed to play with the DSL Diamondbacks 2 in Foreign Rookie ball. A hungry Marriaga posted a .295/.388/.362 clip in 61 games through a team-high 261 plate appearances in his first year of professional ball. Additionally, he recorded team-best marks in hits (66), runs scored (40), triples (3), stolen bases (24), walks (31) and total bases (81). The promising start to his career earned him a promotion to the DSL Diamondback 1 where he appeared in three games, batting .400 while adding a team-best 1.155 OPS in the process.
About the Railcats
A day at Steel Yard is non-stop fun, and that's even without the baseball! The RailCats promise a wide array of laugh-out-loud between inning entertainment, great giveaways, jaw-dropping fireworks and a family-first, kid-friendly atmosphere! RailCats fans come in all ages, shapes, and sizes, and the RailCats promise every fan will have fun.
Quick Links
Find Us
Steel Yard
One Stadium Plaza
Gary, IN 46402
219.882.2255