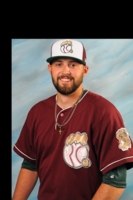 Tasker Strobel
#15
Position:
P
Height:
6' 4"
Weight:
225 lbs
Pro Experience:
Westside Wooly Mammoths (2020)
College Experience:
St. Joseph's College
Bats:
L
Throws:
L
Biography:
Professional Career
2020
After the cancellation of the RailCats 2020 season, the Indiana native signed on with the Westside Woolly Mammoths out of Utica, MI in the United Shore League. Here he appeared in ten games, starting one of them. Across 11.1 innings pitched for the Woolly Mammoths, Strobel gave up 12 hits and 12 runs (five earned), while walking four and striking out 18.
2019
After not playing in 2018, Strobel signed on with the Gary SouthShore RailCats, suiting up and appearing in two games out of the bullpen. In those games, he gave up three runs (two earned) while walking two and striking out one.
2017
In 2017, Strobel signed his first professional contract with the Joliet Slammers of the independent Frontier League. In his time with the Slammers, Strobel pitched out of the bullpen across seven appearances. In 16 innings, Strobel gave up 15 runs (13 earned) while walking eight and striking out six.
St. Joseph's College
2017
In his sophomore campaign, Strobel repeated much of his success from his freshman year. He pitched in 12 games, nine of them being starts in this season. Over 57.2 innings pitched, the Avon native walked 13 and struck out 57, acquiring a 4-4 record with a 4.53 ERA.
2016
In 2016, Strobel attended St. Joseph's College in Renasslaer, IN. As a freshman, Strobel appeared in 14 games for the Pumas, starting 13. Across 88 innings pitched, Strobel went 7-3 with a 3.17 ERA. In those innings, he walked 30 batters while striking out 68. This season was where Strobel set and still remains his season highs in strikeouts and wins.
High School
Strobel attended and played baseball at Avon High School in Danville, IN. During his time at Avon, he played pitcher and first base. Before attending college, Strobel was ranked as the 45th-rated prospect in the 2013 graduating class in the state of Indiana.
Personal
Tasker Strobel was born on April 19, 1995 and hails from Avon, IN.
About the Railcats
A day at Steel Yard is non-stop fun, and that's even without the baseball! The RailCats promise a wide array of laugh-out-loud between inning entertainment, great giveaways, jaw-dropping fireworks and a family-first, kid-friendly atmosphere! RailCats fans come in all ages, shapes, and sizes, and the RailCats promise every fan will have fun.
Quick Links
Find Us
Steel Yard
One Stadium Plaza
Gary, IN 46402
219.882.2255