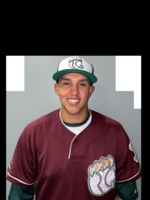 Nick Garcia
#64
Position:
P
Height:
5' 11"
Weight:
207 lbs
Pro Experience:
Road Warrior Black Sox (2020)
College Experience:
Missouri Valley
Bats:
R
Throws:
R
Biography:
Professional Career
2020
Garcia signed his first professional contract in 2020, signing with the Road Warrior Black Sox of the Yinzer Baseball Confederacy. With the Black Sox, Garcia made five appearances on the mound along with one appearance as a starter, accruing a 1-1 record in that time. He threw in 15 innings, giving up ten runs, all of them earned. He also struck out six and walked four.
Missouri Valley College
2019
In 2019, Nick Garcia pitched in 14 games, ten of them starts, for the Missouri Valley Vikings. Across 74.2 innings, he was stellar, rocking a 3.86 ERA while striking out 89 batters and only walking 20. He also added seven complete games and one complete game to his 2019 resume. Garcia received numerous honors at Missouri Valley College, including being named to the 2019 All-Conference Team. He also spent that summer playing ball with the Brooks Bombers of the Western Canadian League.
2018
In Garcia's first year at Missouri Valley, he was thrown into the rotation straight away, making twelve starts across twelve appearances that season. In 71.1 innings of work, Garcia had an ERA of 4.04. He was also very good in the control department, striking out 71 batters while walking just 19.
Personal Information
Nick Garcia is from Moreno Valley, California.
About the Railcats
A day at Steel Yard is non-stop fun, and that's even without the baseball! The RailCats promise a wide array of laugh-out-loud between inning entertainment, great giveaways, jaw-dropping fireworks and a family-first, kid-friendly atmosphere! RailCats fans come in all ages, shapes, and sizes, and the RailCats promise every fan will have fun.
Quick Links
Find Us
Steel Yard
One Stadium Plaza
Gary, IN 46402
219.882.2255