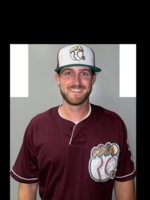 Chris Erwin
#10
Position:
P
Height:
6' 0"
Weight:
167 lbs
Pro Experience:
Baseball Brilliance
College Experience:
Kennesaw State
Bats:
L
Throws:
L
Biography:
Professional Career
2020
In the COVID-shortened 2020 season, Erwin signed with Baseball Brilliance in the Yinzer Baseball Confederacy. He also made six appearances out of the bullpen and threw 7.2 innings. Erwin gave up nine runs, eight of them earned, and struck out nine while walking seven.
2019
In 2019, Erwin signed his first professional contract with the Sussex County Miners of the Canadian-American Association. He made two starts across three games and threw seven innings in Sussex County. Later in the season, Erwin joined the Florence Freedom in the Frontier League. There, he made six appearances out of the bullpen and threw 5.1 innings. He was able to strike out seven and walk only two batters.
Kennesaw State
2017
In Erwin's senior campaign, he threw mostly as a starting pitcher, making eight starts across 11 total games. In 34.2 innings pitched, Erwin struggled with control at times, walking 35 batters while striking out only 22. He even made the transition as Kennesaw State's closer for a short period of time, even picking up a save.
2016
Erwin had a great junior season, showing out for the Owls as a lockdown starter in their rotation. He pitched in 13 games, starting them all, throwing 75 innings across the season. He accrued a 3-3 record while piling up the strikeouts. He was able to strike out 66 while walking 32 batters.
2015
As a sophomore, Erwin appeared in 16 games, eight of them being starts. In those games, he picked up a 5-4 record, marking a collegiate career high in wins. He also threw in 60.1 innings, striking out 64 and walking 27 in that time frame. Erwin's sophomore season marked a collegiate career high in K/9 and strikeouts/walks ratio.
2014
As a freshman at Kennesaw State, Erwin pitched mostly out of the bullpen but also made some starts, appearing in 15 games and making eight starts. He threw in 42.2 innings across those games, picking up a 3-1 record. He also posted a solid 3.16 ERA, giving up 15 earned runs. He also walked 24 while striking out 33 batters. He was honored for his performance by being listed to the Atlantic Sun Conference All-Freshmen Team.
High School
Erwin attended Grayson High School where he helped lead his team to the state semifinals in his senior season. Erwin was listed as a Top 100 prospect in the state of Georgia in both his junior and senior years. He was also drafted by the Minnesota Twins in the 28th round of the 2013 MLB Draft, but opted to attend Kennesaw State instead.
Personal Information
Chris Erwin was born on August 10, 1995 in Grayson, Georgia to Robert and Leslie Erwin. He also has one brother named Ryan.
About the Railcats
A day at Steel Yard is non-stop fun, and that's even without the baseball! The RailCats promise a wide array of laugh-out-loud between inning entertainment, great giveaways, jaw-dropping fireworks and a family-first, kid-friendly atmosphere! RailCats fans come in all ages, shapes, and sizes, and the RailCats promise every fan will have fun.
Quick Links
Find Us
Steel Yard
One Stadium Plaza
Gary, IN 46402
219.882.2255