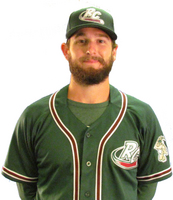 Justin Sinibaldi
#39
Position:
P
Height:
6' 3"
Weight:
210 lbs
College Experience:
Nicholls State University
Bats:
R
Throws:
R
Biography:
2018
Re-signed with the Lake Erie Crushers of the Frontier before the start of the season
Traded to Gary from Lake Erie in exchange for outfielder Cameron Newell on Feb. 6
Returned to Lake Erie to complete an earlier trade between the two teams on May 16
Went 3-4 with a career-best 10 saves, 17 games finished and a 3.57 ERA in 30 games (nine starts) with Lake Erie
Posted a career-high 10 saves, 17 games finished and 68 innings pitched
Recorded a career-best three consecutive saves between 6/14 and 6/17
Didn't allow a hit in a career-best 8.1 consecutive innings between 6/5 and 6/24
2017
Re-signed with Lake Erie on Dec. 23
Went 5-2 with a 3.15 ERA in a career-high 36 relief appearances
Posted a career-high 36 relief appearances, 73 strikeouts, .221 opponents batting average, 1.02 WHIP, 73.2 First Pitch Strike Percentage (FPS), 10.95 K/9 (strikeouts per nine innings) and a 10.95 BB/9 (walks per nine innings)
Didn't allow a run in a career-best 24.1 consecutive innings between 7/7 and 8/19
2016
Signed his first professional baseball contract with Lake Erie on June 21 following his senior season at Nicholls State University
Went 1-5 with one save and a 4.18 ERA in 12 games (three starts) with Lake Erie
Charged with the loss in his professional debut on 6/24 against the Joliet Slammers (1.1 IP, 5 R/1 ER, 4 H, 1 BB, 0 K)
Recorded his first pro win on 8/21 vs. the now defunct Traverse City Beach Bums (3.1 IP, 0 R/0 ER, 0 H, 6 BB, 6 K)
Personal
Named First Team All District and Honorable Mention All-State as a senior at Archbishop Rummer High School in 2012
Went 4-2 with a 2.25 ERA in 11 games (10 starts) with the Acadiana Cane Cutters of the Texas Summer Collegiate League in 2013
Went 2-2 with a 3.68 ERA in eight games (six starts) with the Clarinda A's of the MINK Summer Collegiate League in 2014
Named the Southland Conference Pitcher of the Year, First Team All-Southland, First Team All-Louisiana, and was a member of the National College Baseball Hall of Fame Pitcher of the Year Watch List after going 10-1 with two complete game shutouts and a 1.40 ERA as a junior in 2015 at Nicholls State University
Led the Southland Conference with 10 wins and a 1.40 ERA and led the Nicholls State pitching staff in wins, ERA, complete games and shutouts
Went 6-6 with four complete games, a shutout and a 3.60 ERA in 15 games (14 starts) as a senior at Nicholls State in 2016
Led the Nicholls State pitching staff with four complete games, one shutout, 95 innings pitched and 79 strikeouts in 2016
Son of Armand and Karen Sinibaldi; has an older brother, Trey, and a younger brother, Adam
Father, Armand, player professional baseball in Italy and collegiately at Northwestern State University and the University of New Orleans

About the Railcats
A day at Steel Yard is non-stop fun, and that's even without the baseball! The RailCats promise a wide array of laugh-out-loud between inning entertainment, great giveaways, jaw-dropping fireworks and a family-first, kid-friendly atmosphere! RailCats fans come in all ages, shapes, and sizes, and the RailCats promise every fan will have fun.
Quick Links
Find Us
Steel Yard
One Stadium Plaza
Gary, IN 46402
219.882.2255