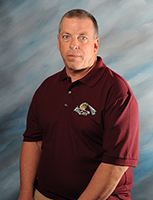 Chuck Schultz
Clubhouse Manager
Chuck Schultz returns to the Gary SouthShore RailCats in 2019 for his second season as the team's Clubhouse Manager. Schultz was the head groundskeeper/clubhouse manager for the Joliet Slammers of the Frontier League in 2017 prior to joining the RailCats. Chuck is responsible for the up-keeping of both clubhouses.
Chuck was an assistant baseball coach at Beecher High School for seven years and is a retired Harvey, Ill., firefighter. Chuck has three children (daughters, Alexis and Bailey; son, Cole) and resides in Beecher, Ind.
About the Railcats
A day at Steel Yard is non-stop fun, and that's even without the baseball! The RailCats promise a wide array of laugh-out-loud between inning entertainment, great giveaways, jaw-dropping fireworks and a family-first, kid-friendly atmosphere! RailCats fans come in all ages, shapes, and sizes, and the RailCats promise every fan will have fun.
Quick Links
Find Us
Steel Yard
One Stadium Plaza
Gary, IN 46402
219.882.2255