Coaching Staff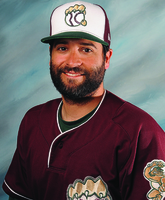 Alain Quijano
Pitching Coach
Alain Quijano returns to the Gary SouthShore RailCats in 2018 for his fourth straight season as the team's pitching coach. Since being named the team's pitching coach in 2015, Quijano has had five players have their contracts purchased by Major League Affiliates — RHP Matt Solter, 2016 (San Francisco Giants); LHP Alex Gunn, 2016 (Arizona Diamondbacks); RHP Christian Herstine, 2016 (New York Yankees); RHP Karl Triana (Baltimore Orioles); LHP Carlos Diaz, 2017 (Miami Marlins/Oakland Athletics).
Quijano played nine seasons of Independent Professional Baseball, including three with Gary (2009, 2011, 2013). Quijano's best season with the RailCats was on the 2013 Championship Team, where the southpaw won a career-high and RailCats single-season-high-tying 12 games. Quijano finished the season 12-7 with a 4.05 ERA in 21 starts, striking out 82 batters in 133.1 innings. Quijano concluded his professional baseball career in 2014 with the York Revolution of the Atlantic League, posting a 10-10 record with a 4.59 ERA in a career-high 28 starts and 168.2 innings pitched.
Quijano is also in his second season as the head baseball coach at Olive-Harvey College in Chicago, Ill.. Quijano resides in Oak Lawn, Ill., with his wife, Becky, and their two children (daughter Maryanna; son Max).
About the Railcats
A day at U.S. Steel Yard is non-stop fun, and that's even without the baseball! The RailCats promise a wide array of laugh-out-loud between inning entertainment, great giveaways, jaw-dropping fireworks and a family-first, kid-friendly atmosphere! RailCats fans come in all ages, shapes, and sizes, and the RailCats promise every fan will have fun.
Quick Links
Find Us
U.S. Steel Yard
One Stadium Plaza
Gary, IN 46402
219.882.2255